SRM Marine Compressor Unit
Description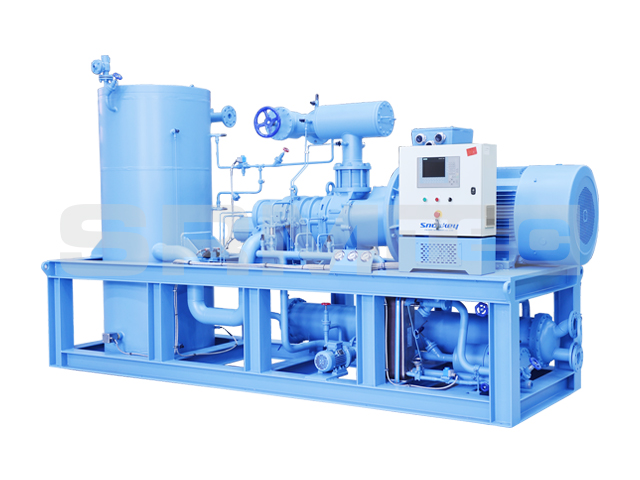 •User-friendly interface,startup with the press of a button,easy operation and intelligent control;
•Real-time uit monitoring,touch panel capable of displaying system pressure,power capacitycontrol position,running time,operational mode,operational mode,operating condition,etc.in real time and capable of storing historical information;
•The common centre is equipped with a preventive safety device system which allows unattended operation to be safe and reliable;
•Automatic power control allows the unit to operate effectively under different conditions;
•Automaic management of oil temperature limits the oil temperature in a certain range,ensuring the efficient and stable operation of the unit;
•Automatic control of the pressure ensuring the exhaust pressure,intake pressure,etc.are within preset range;
•With vector frequency convresion control,the unit is capable of adjusting the rotational speed according to the conditions and reas ably distribute motor rotational torque accoringly,allowing energyefficient operation and low cost;
•Remot control,local control and other control modes are available for the system to turn on and turn off equipment, it can also be linked to the monitoring center in real time by reserved bus protocol.
•The package is equipped with international leading SRMTEC open screw compressor.Use "i" patent screw rotoe profile, efficient and energy-saving;
•Highly sensitive capacity control unit for 10%-100% step-less capacity control and a VI control allows package to run efficiently in different working conditions.
•Adopt a small oil pump for pre-lubrication first,and then use pressure differential to supply oil,which saves energy;
•High pressure liquid from condenser gains extra cooling power by being injected into compressor after absorbing the sensible heat of the high pressure liquid in the economizer.COP can be improved greatly in this way;
•Advanced energy-saving technology allows package to have quite high running efficiency and excellent part load performance.