SRSP1V-12 Semi-hermetic Single-stage Inverter Screw Compressor Unit
Description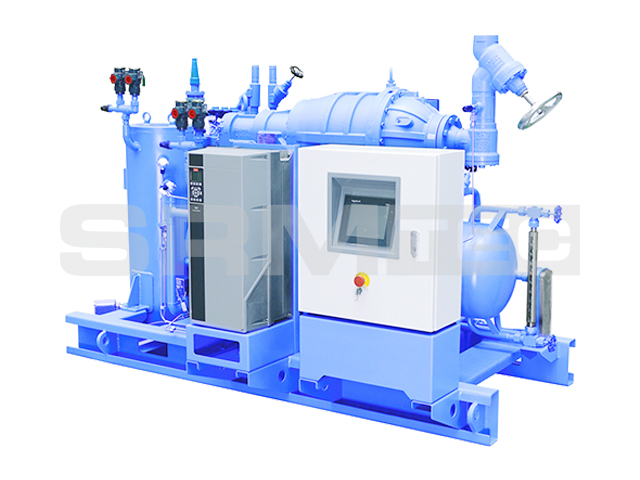 SRS Semi- hermetic Single- stage Screw CompressorUnits include 46 models. Theoretical displacement of singlecompressor is 85- 500m3/h(3000RPM) Semi-hermetic
Single- stage Screw Compressor is used, applicable forR717, R404A, R507A, R407F, wide application scenarios.
The standard scope of supply: compressor, variablefrequency converter for R717 (converters for otherrefrigerants are available), control center, oil separator,economizer (based on the working conditions), oil cooler,oil filter, suction filter, automation components, etc.

Merits of Semi-hermetic Single-stage Inverter Screw Compressor Unit
●Semi-hermetic screw compressor,integration of motor andcompressor, compact structure.
●Low- temp units could be packagedwith EConomizer to improve COP.
●Fully automatic one- key start- up;real- time analysis and monitoringof the operation status; savingand keeping of the historical dataremotely control .
●Highly intelligent control systemwith multiple preventive protectionmodules and intelligent failurewarning functions.
●High capacity precision oil filter andsuction filter are both removable forcleaning, easy maintenance.
●Four- stage oil separation system,contributes to separation ratio ashigh as 99.9%. High efficiency oilcooler is installed, whose coolingmethod can be chosen betweenwater- cooling and refringerantcooling.
●All the components are from wellknown manufacturers: high reliabilityand guaranteed quality.
●Each unit is tested and checked forits full performance to ensure thequality.

Refrigeration Capacity of SRSP1V Semi-hermetic Single-stage Inverter Screw Compressor Unit
Technical Data Sheet of SRSP1V Semi-Hermetic One-Stage Inverter Screw Compressor Unit