SRSP2V-1612 Semi-hermetic Compound Two-stage Inverter Screw Compressor Unit
Description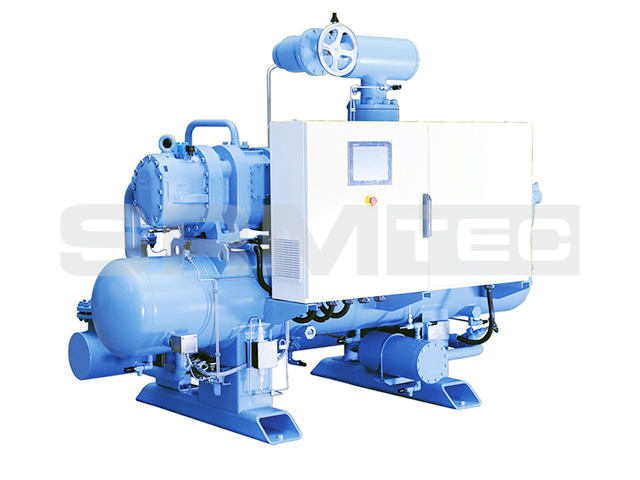 SRS Semi-hermetic Two- stage Screw CompactCompressor Units include 5 models. Semi- hermetictwo- stage screw compressor is used, free of leakand wide application. The unit can be packaged withthe variable frequency motor to improve the operationefficiency when the load changes. Applicable for multiplenatural refrigerants such as R717, R22, and R507A.The standard scope of supply: semi- hermetic screwcompressor, control center, oil separator, intercooler, oilcooler, high- capacity filter, automation components, etc.

Merits of Open-type Two-stage Screw Compressor Unit
● Abopt semi- hermetic screw compressor, integrationof motor and compressor, compact structure whichrequires less space and is easy to transport.
●Permanent magnet synchronous motor,specialtailor- made materials are used so that it iscompatible with multiple refrigerants such as R22,R404A, R507A, R410a, etc.
●Intercooler is installed to subcool the high pressure liquidfrom the condenser, thus improving COP of the system.
●Fully automatic one- key start- up; real- time analysisand monitoring of the operation status; saving andkeeping of the historical data remotely control .
●Highly intelligent control system with multiplepreventive protection modules and intelligent failurewarning- functions.
●High capacity precision oil filter, and suction filter areboth removable for cleaning, easy maintenance.
●Four-stage oil separation system, contributes toseparation ratio as high as 99.9%. High efficiency oilcooler installed, whose cooling method can be chosebetween water- cooling and nefringerant- cooling.
●All the components are from well-know nmanufacturers: high reliability and guaranteed quality.
●Each unit is tested and checked for its fullperformance to ensure the quality.

Refrigeration capacity of SRSP2V semi-hermetic compound two-stage inverter screw compressor unit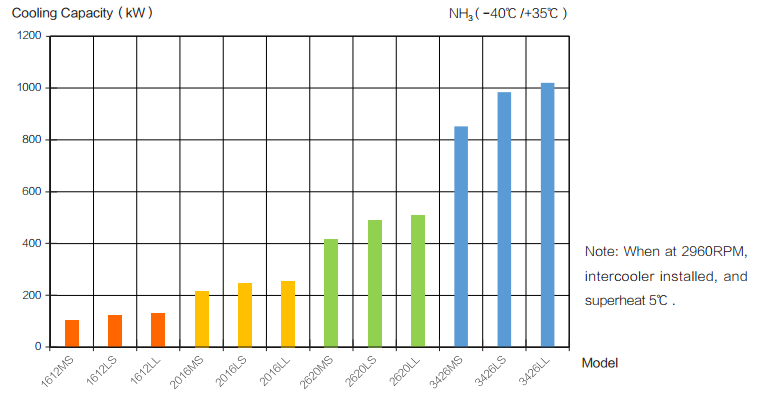 Technical Data Sheet of SRSP2V Semi-Hermetic Compound Two-Stage Inverter Screw Compressor Unit