Unit-Box Packages
Description
Snowman use RefComp SP compressors for this series of units. The power range is 5- 20HP. Integrated box- type design renders the compact size, easy maintenance.
Features of Unit-Box Packages
●Snowman's accumulated experience in refrigeration system integration.
●Worldwide brand compressors provide strong cooling capacity.
●Worldwide brand air- cooling condenser.
●Unified and robust quality assurance system covering from components, parts to whole units.
●Applicable for R22, R507A, R404A, etc..
●Units for both medium/high temp and low temp working conditions are available.
●Mechanical- electrical integrated structure occupies less space and renders easy operation and maintenance.
●Unique gas- liquid design to significantly reduce the liquid- strike damage caused by load fluctuation.
●User- friendly design to make the replacement of quick- wear parts easy and maintenance cost low.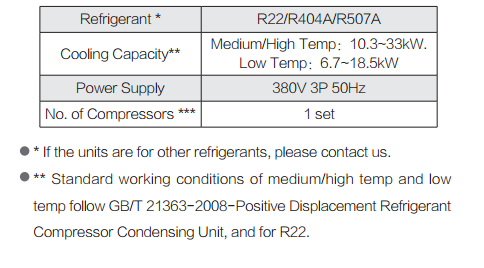 The material is being collated,please look forward to..……